Encourage the boils and ghouls to attend your party by sending digital invites
Turn your Halloween party into the shindig of the season through free, customizable invitations.
Below is a list of the best Halloween party invitations that can be easily customized with your own text and even photos before you send them out to your guests' email inboxes. With some of these invitations, you can even keep track of your RSVPs online.
Get Your Freak On by Marcia Copeland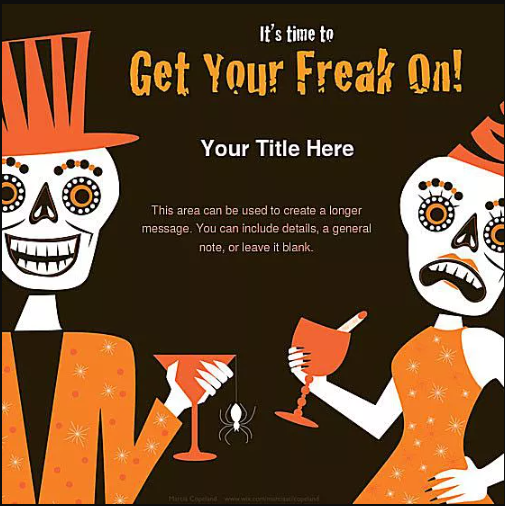 Here's an online Halloween invitation by Marcia Copeland featuring a skeleton couple inviting your guests to come to get their freak on at your Halloween party.
After you've filled out all your party details, you can preview your Halloween party invite to see what it will look like in an email, on a webpage, and slipped into a digital envelope.
Pumpkin Carving Party Invite from Canva
Canva has a lot of free, online Halloween invitations but this pumpkin carving invite is one of our favorites.
With a dark purple background and bright orange and yellow jack o' lanterns, your guests won't be able to resist your pumpkin carving party invite.
You can customize the text, colors, and other details of this invite before sending it on.
Pumpkin Online Halloween Invitation from Punchbowl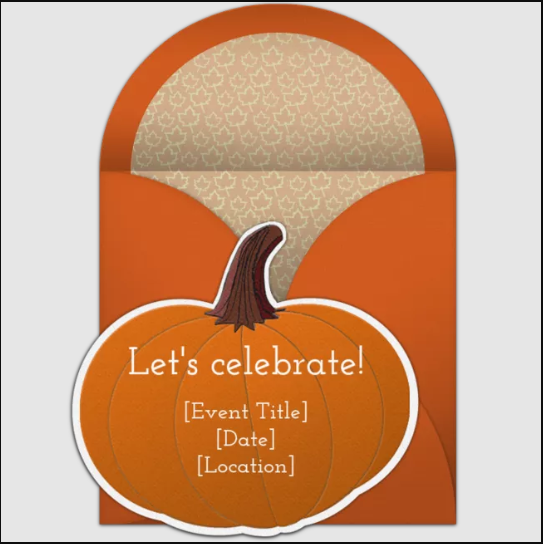 This free online Halloween invitation will work for any type of party you're having, spooky to fun, for the adults or the kids. The invitation is shaped like a pumpkin and it slips into it's own virtual envelope.
You can personalize this Halloween party invite with a title, date, and location along with any other details you want to tell guests about.
Punchbowl allows you to keep track of your guests' RSVP's for free and even set up a message board where you guests can chat.
Halloween Bash Invitation from Charming Ink
This free online Halloween invitation welcomes your friends not just to a party but to a bash.A friendly ghost (or maybe not — did you notice the teeth?) and a moon and bat dares them to attend.
There's plenty of room in the Halloween party invite to add the date, time, and place of the party, along with any other details your guests will need to know.
Halloween Soiree by Marcia Copeland
This Halloween party invitation is modern but still keeps with the spirit of Halloween. It would really work for any type of Halloween party you plan on having.
You can fully customize this Halloween party invitation with your own text and images. You can also add your party date and time which will automatically be added to the invitation and guests will have the option of completing their RSVP online.
Cat's Patch by Crate & Barrel for Paperless Post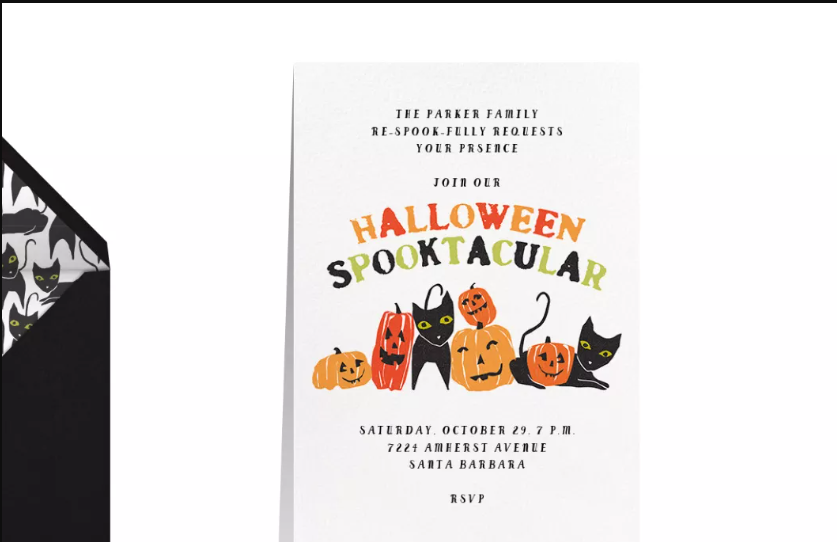 You're Invited by Evite

This is a truly creepy Halloween party invitation that invites your guests to come visit your haunted party.
Enter your party details to this Halloween party invitation and make it super easy for your guests to be in the know.
More Halloween Resources
If you're looking for more Halloween freebies like free Halloween party invitations for your shindig, check out our lists of free Halloween party games, Halloween music, and spooky Halloween sounds.
All these Halloween party invitations are meant to be sent online but if you want to go the more traditional route, review our list of printable Halloween party invitations that you can send in the mail or deliver in person.